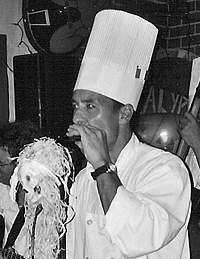 CHECK OUT THIS TROUBADOUR ARTICLE
HE FRONTS HIS OWN BAND!
Billy Watson and the International Silver String Submarine Band is an improvisational, all-star cast of musicians, hand-picked from the California music scene. Since each member also works with their own bands, the "Cast" has been known to change often, adding mysterious excitement and spontaneity to every performance, while NEVER losing the highest of musical standards and professionalism.
HE PLAYS THE HARMONICA!
Billy is an entertainer extraordinaire, capable of throwing down a blues show that can be infectiously hilarious and convincingly nasty. His energy as a frontman is relentless, his vocals inspiring, and his harp work musically outstanding. Billy's repertoire ranges from creepy grooves, grinding shuffles, to fast boogies and swings. Yet audiences do not flock to his shows simply for his mastery of the harmonica... they are drawn by his magnetic stage personality and the idea of never knowing what antic may be next!
Blues music was created by people looking for a way to forget their "blues" by telling their stories through song. Billy's show reminds modern audiences that blues music can be lowdown, but that in the end it's all about having some fun, dancing, and forgetting about your worries.

ALL-STAR CAST
Mike Reilley (Greg Allman, Elvin Bishop)
Nathan James-Guitar (James Harman)
Jonny Viau-Saxophone (Candye Kane Band)
Marty Dodson-Drums (Mark Hummel, James Harman)
Kurt Kaulker-Drums (The Fremonts)
Jeff Ross-Guitar (Bellamy Brothers, Hellecasters)
Marcus Bashore-Drums (Swinging Kings)
Burt Newman-Bass (Swingin' Kings, Blonde Bruce Band)
Adrian Demain-Guitar (Cheap Leis, Lee Rocker)
Robin Henkel-Bass & Guitar (Himself, Big Rig Deluxe, 7th Day Buskers)
Kyle Jester-Guitar (Small Town Heroes, Candye Kane)
Tom Harkenrider-Guitar (Candye Kane)
Taryn Donath-Piano (Taryn Donath Band)
Junior Watson-Guitar (Himself, Canned Heat, Rod Piazza)
Brian Nucci Cantrell-Drums (Hot Chicken Stew)
Joey Jazdzewski-Bass (James Harman, The Paladins)
Pete Fazzini-Guitar (Red Lotus Review)
John Bazz-Bass (Blasters)
Stephen Hodges-Drums (Mavis Staples, Tom Waits)
Evan Caleb Yearsley-Drums (Candye Kane Band)
Thomas Yearsley-Bass (Paladins)
Kurt Kalker-Drums (CandyeKane, Fremonts)
George Sluppick-Drums (Chris Robinson Band, Mofro, City Champs)
Tommy Harkenrider-Guitar (The Memphis Kings)

BILLY AS THE SIDEMAN...
Robin Henkel Band
Candye Kane Band
Blue Largo
Mississippi Mudsharks
Blues Pharoahs
2000 Lbs of Blues
The Joint Chiefs
The Mike Reilly Band
Earl Thomas Blues Ambassadors
Tommy Harkenrider and The Memphis Kings
Jim Austin's- Big Blue Tractor
Bongos/Percussion for Thomas Yearsley's- Exotiki
BIZNESS & BOOKING
RECORDINGS
Billy Watson and His International Silver String Submarine Band 1998
Little Snick Meets Junior Mint 1999 (nominated best blues San Diego)
Absolutely Live At The Rhythm Cafe 2001 (nomintaed best blues San Diego)
Madcap Extravaganza 2003
¡Numero Cinco! 2005
Blowin Crow 2007
Lucky 7 2009
Secret 8 2010 (nominated best blues San Diego)
9 Lives 2013
The 10th Square Peg
...our 11th CD on the way!
OTHER RECORDINGS
Whatya Hear is Whatya Get- Mississippi Mudsharks 1999
Scorching The Skins- Green Onions Jack Costanzo 2002
VENUES
Coyote Bar & Grill, Carlsbad
Belly Up Tavern, Solana Beach
Boom Boom Room, San Francisco
The Pannikin, Del Mar
The Calypso, Encinitas
Tio Leo's
Pala Casino
The Renaissance
Miramonte Winery (Temecula, CA) Ive Lee's (San Clemente, CA)
Proud Mary's Ramada Inn (Kearney Mesa, CA)
The Rhythm Room (Phoenix, AZ)
The Poorhouse Bistro (San Jose, CA)
Jerry's Front Pocket (Santa Cruz, CA)
Kelsey Creek Brewing CO. (Kelseyville, CA)

SHOW OPENER for
Tommy Castro, Belly Up Tavern
Etta James, Belly Up Tavern
James Harman, Coyote Bar & Grill
Rod Piazza, (w/ the Mississippi Mudsharks), The Palomar Winery
Marcia Ball & Pinetop Perkins, Belly Up Tavern
Dennis Quaid and the Sharks
Candye Kane, Tio Leo's
Johnny Winter, Belly Up
RECOGNITIONS
Slamm Magazine
The San Diego Union-Tribune
The Sun
The East County Californian
The Del Mar Times
Blue Ink
The Reader
The Troubadour
Southland Blues